Tutorial: Newt Webmail
We provide a system that lets you check your email from anywhere! It's webmail and here's how to use it.
Step 1: Navigate to http://mail.newtweb.com. (The page will open in a new window so you can keep following.)
Step 2: In the textbox next to "Username:" type your full email address. Example: address@domain.com
Step 3: After you typed in your email address you can hit [Tab] on the keyboard or click the next textbox labeled "Password:" next. The password is CaSe SeNsItIvE so make sure you don't have [Caps Lock] on unless your password is all caps. =]
---
Here's an illustration of the page. The steps above correspond with the illustration for ease of use.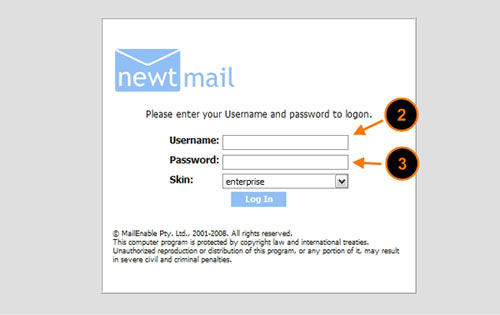 ---
Once logged in you should see something like this.

There are many features available on the webmail just like in your normal email program.
In the top toolbar

Compose - Draft a new email to your recipients.
Check Inbox - Checks for new emails and displays them in the list.
Calendar - Manage your appointments.
Contacts - Keep track of your contacts or even import them from your other email programs.
Folders - Organize your emails into different folders.
Options - Change your password, redirect your emails, set up an auto-responder, filter emails, and settings for advanced users.

Folders on the left

Deleted Items
Drafts
Inbox
Sent Items
And any others you may have added...